Trend Watch: Top 8 Kitchen Designs That Will Rule in 2015
Thinking of redoing your kitchen with a new look come the new year? Read on to learn about kitchen designs, elements and finishes, decorating ideas, and other kitchen trends that are expected to be big in 2015.
1. Modern Look Meets Traditional Style
A mix of modern and traditional designs will be one of the biggest trends in 2015. Homeowners are expected to go from the ultra-sleek, contemporary look in favor of a kitchen that is homey and cozy, an epitome of a family.
Sydney kitchen designer Kesha Pillay of Art of Kitchens explains, "This trend is affecting everything from cabinet design to colors, materials to textures. We are really mixing it up…flat-panel cabinet doors are being replaced with classic door profiles, such as Shaker doors, for example. And materials are being mixed, such as stainless steel with wood, and wood with marble."
The kitchens of 2015 will reflect a more charming, traditional style.
2. Black as the It Color
Are you ready for a dark and sophisticated kitchen? Black will be one of the trendy colors of 2015 when it comes to dominant hues of kitchen style. Black makes a strong and bold statement and more people are gearing toward this look.
Black can be incorporated in countertops, paneling and cabinets.
3. Warm Metals Will Shine
Silver, stainless steel and chrome are three metallic usually used in kitchen designs. Next year however, warmer metals like gold, bronze and copper will take center stage. These metallic colors will add a stunning accent to other colors used in the kitchen.
4. Wallpaper is In!
Wallpaper décor will be a big trend in 2015 giving character to your cooking space and will provide visual impact to the design. Decorating with wallpaper allows for flexibility in terms of complementing decorating elements – it can give contrast to colors or accentuate the theme and/or color scheme. It doesn't hurt too that spicing things up with wallpaper accent is super fun!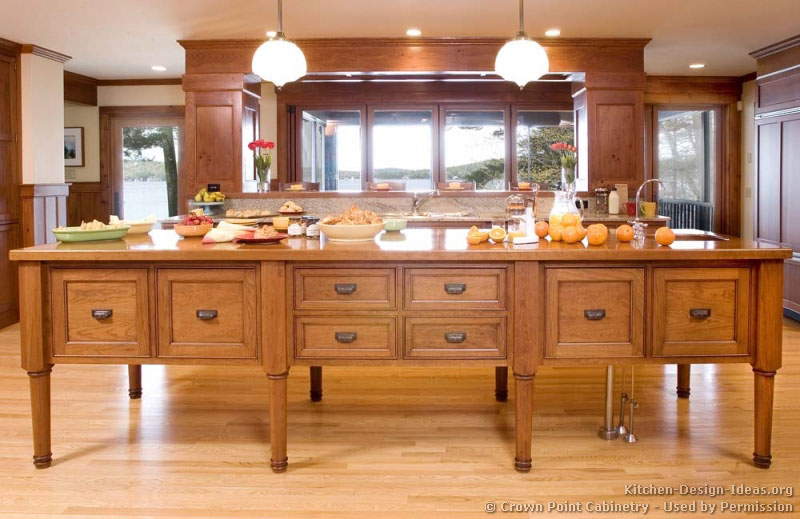 5. Bringing Furniture-Style Pieces in the Cooking Zone
Another trend predicted to make it big in 2015 are furniture-style cabinetry and other similar features. Such style marks innovation in kitchen design where the space that is functional also becomes an area in the house where family can actually relax and enjoy.
"The incredible designs available celebrate the different elements of the kitchen as pieces of beautiful furniture, not just workstations, which allows people to bring their own personal, warm, welcoming touch to this space," says Interior Designer Greg Natale.
An easy way to implement this design is by using an island but raising it on legs or including detailed paneling to transform it into a stand-out piece.
6. Ceilings That Wow!
Start taking notice of your ceiling because next year's craze will include ceiling designs – those that entice you to look up. It will be about lighting, bulkheads and other ceiling embellishments.
7. Minimal Wall Cabinets
Airy, open kitchens are welcome and this design incorporates further into fewer wall cabinets to make an impression of more space. Open-plan kitchens are no stranger to many homeowners. However this time, it is not only about the floor plan, but also on the ambiance and look of the entire space. Minimal wall cabinets give this vibe of spaciousness and give other decorations in the room more attention. Minimalist enthusiasts will enjoy this new airy, bulk-free look.
8. All About Textures
Natural marble, granite in honed finishes, engineered stones that imitate raw finishes and wood will dominate.
2015 is about the feel and look of the room, so texture must be considered if you plan to redecorate your cooking space.
The Blake Team is full-service real estate company based in Denver, Colorado offering the most comprehensive real estate services in the market. The team specializes in working with Buyers & Sellers, foreclosures/HUD, short sales, and luxury properties allowing hundreds of families and individuals get into their dream home.
Partner with an award winning team to assist you in buying or selling real estate. CONTACT US
Cover Photo from ur-style.net
About the author
The Blake Team is a full-service Real Estate team based in Aurora, Colorado specializing in working with Buyers & Sellers, foreclosures/HUD, short sales, and luxury properties. A team with years of experience and an impressive success rate that made it the No.18 real estate brokerage in the nation, as well as the No.1 Keller Williams agent in Colorado led by CEO & Founder Lisa Blake. The Blake Team is your No. 1 choice for getting your dream home!