Top 10 Must Do Activities in Denver this Summer
If summer weather leaves you wanting for some recreational activities, then luck is with you if you live in the Mile High City. If not, fret not and include a trip to Denver in your summer getaway because this city has some of the best summer fun laid out for you!
1. Concert at the Red Rock Amphitheatre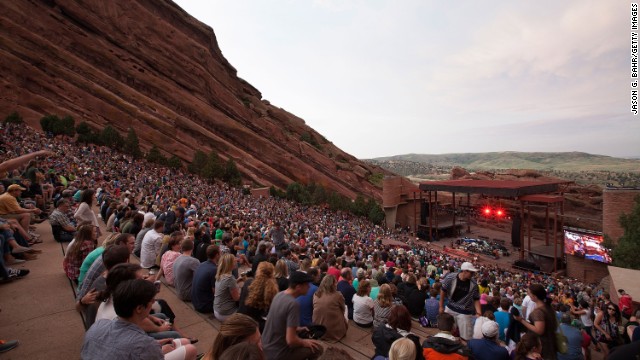 Just 15 miles west of Denver, the Red Rocks Park and Amphitheatre is the best place to be for outdoor concerts. Love acoustic music? Then consider this favorite concert venue your own music paradise. Highlights of the 2014 summer concerts boast of The Fall Out Boy, Lana Del Rey, Amos Lee with the Colorado Symphony and Sarah McLachlan among many other talented musicians and artists. Here's the concert schedule for the rest of the summer.
Listening to jazz music in the summer? Perfect combination! Smooth jazz and sultry nights make this leisure a must-not-miss event. Catch free jazz concerts at the City Park every Sunday at 6 PM. Concerts until August 3, 2014.
3. Summer Festivals
There is something for everyone to enjoy the summer heat amidst all the festivals that abound in Denver. There are the likes of the Cherry Creek Art Festival, Colorado Renaissance Festival, The Colorado Dragon Boat Festival, Capitol Hill's People Fair, and Denver Chalk Art Festival. Check out the line-up of summer fairs and festivals in Denver, take your pick (or more!) and have an awesome time!
4. Shopping at a Farmer's Market
Enjoy the summer delights of Colorado peaches, tomatoes, and other fresh produce of fruits and vegetables on display at farmers markets in Denver. These markets also offer delicacies and gourmet treats such as homemade salsa, muffins and crepes.
5. Go Hiking
If hiking is a favorite hobby, kismet! Denver is known for its hiking paths and terrains that range from paved trails to rugged climbs but are all worth the hike!
See these five hikes within a short drive from Denver.
6. Visit the Denver Zoo
The Denver Zoo covers 80 acres in City Park and houses 3,500 different animals from all over the world belonging from 650 various species. The Denver Zoo is home to endangered or threatened animals in line with its conservation efforts. It houses three species that have gone extinct in the wild and provides a habitat for 188 endangered species. The zoo is open 365 days a year from 9 am to 6 pm.
7. Swim at Public Pools
Beat the summer heat with a splash at one of Denver's 16 outdoor pools, open from June 9 – August 19, 2014. Most pools are open from noon to 5 pm, with some closing at a later hour.
8. Walking Tour of Capitol Hill
Guided tours are from Monday to Saturday from 10:30 am – 2:30 pm. Visit the gallery at the Byers-Evans House, which is considered as one of Denver's grandest historical homes having been built in 1863 by newspaper tycoon, William Byers. Drop by the new Denver Art Museum, Denver Public Library, and the Colorado State Capitol. Enjoy the Civic Center Park and the Denver Mint. Capitol Hill is a mix of both the old and new, and what better way to witness both historical and modern features of a city than to tour the locality in Denver that best represents these two worlds.
Related article: In and Around Capitol Hill
9. Visit the Denver Botanical Gardens
The gardens boast of more than 32,000 species of plants. It comes as a little surprise given its 24 acres home serving as Denver's urban oasis. From June 14 – November 30, 2014, Denver Botanic Gardens is displaying glass sculptures from Dale Chihuly. This is the first time that the artist's works are installed in the Rocky Mountain region.
10. Play Golf
Ah, a perfect summer day. Who wants to be stuck in an air-conditioned cubicle when you could be out, enjoying the weather and getting a tan while playing golf at the same time? Denver has seven public golf courses that you can enjoy. Golfers of all levels will appreciate the nicest golf courses from the 18 holes at the City Park to the 9 holes at Harvard Glutch. Summer sport has never been more exciting!
Cover photo for the blog is courtesy of the Peter Greenberg website
http://petergreenberg.com/2014/06/21/7-ways-celebrate-the-summer-solstice/
About the author
The Blake Team is a full-service Real Estate team based in Aurora, Colorado specializing in working with Buyers & Sellers, foreclosures/HUD, short sales, and luxury properties. A team with years of experience and an impressive success rate that made it the No.18 real estate brokerage in the nation, as well as the No.1 Keller Williams agent in Colorado led by CEO & Founder Lisa Blake. The Blake Team is your No. 1 choice for getting your dream home!