JULY HOME CHECKLIST: YOUR TO-DO LIST THIS SUMMER
Summer is officially here! And with the recent July 4th celebration as a kick-off of a much-awaited season, it is best to get your safety and housekeeping black belt in place so you will never have to experience any summer spoilers to dampen the carefree, fun months ahead!
This month's checklist offers ways to slash water and energy bills, keep your outdoor space in tip-top shape, and protect your home while you're on your summer get-away.
Keeping Your Home Safe While You're Not Around
1. Inform neighbors you'll be away. If you are on friendly terms with a neighbor, consider leaving a duplicate of your key in case of emergency. Regardless of your congeniality skills though, it is paramount that you tell your neighbors that you will be gone for a certain period of time and leave your contact information with one or two of them, and/or phone number of someone you left your key with. Be careful about being too excited on social media. This has been a constant security reminder that sharing too much information about a trip could be a safety hazard to you and your property. You don't want to alert burglars that your house is a good candidate for robbery because no one is around.
2. Use light timers and motion sensors. Give the impression that your home is occupied and you block off potential theft. Nobody wants to break into a house that's occupied! Make use of light timers and program your interior lights to turn on for several hours each night. You can even set your TV to turn on as well just to make it more believable! Consider motion sensors as well for your front, back and side doors.
3. Keep up the appearance of daily activities. If you will be away for more than a week, request one of your neighbors to see to your garbage and recycling bins – just to bring them out and back creating an impression of a cleaning routine at home. Contact your postal service to hold your mail for the time that you're gone or up to 30 days, or ask a neighbor to collect your mails. Do not let them pile up on your porch! Same goes for newspapers or any subscription you have that gets delivered to your home address.
4. Trim trees and shrubs to have more visibility. With little room for a person to duck down and hide, it will make it more difficult to break in without ample cover. If possible, all windows and doors should be visible.
 5. Hence, move valuables away from the windows. It will look really odd (and a dead give-away) if you pull down all your shades or close up all curtains. So you may want to leave a few shades open (just don't do overdo the exposure) but be aware of what's visible from the open shades when someone is peering from the outside. Stow away your valuables to safety. Expensive decors should also be far from arm's reach from the window should a bold burglar decide to smash and grab from a window.
 6. Hire a pet sitter. For those who have pets, a pet sitter will not only help keep your house safe but will be a relief and comfort to your dear pet. A pet sitter can stop by once or twice a day to look after your pet. Maybe he/she can throw in extra, small tasks of watering the plants and checking in your house.
Refresh your Guest Room / Guest House
If you are expecting guests this summer, now is a good time as any to revive that spare bedroom or guest house. Organize, clean up, de-clutter, and decorate your guest room!
Photo by: damaris-daria.blogspot.com
Save on Water and Energy Bills
Time your garden upkeep in the early morning or evening when watering your garden will not make you lose water anyway due to evaporation. The cooler the temp, the less water gone wasted.
Set your thermostat higher when you are out during the day
Check faucets and irrigation system for any leaks. Water is a gem! Conserve water and it is not only good for Mother Nature but also very good for your water bill
On days when it's not scorching hot, use fans and open windows to bring in fresh air instead of cozying with the air-condition the whole time.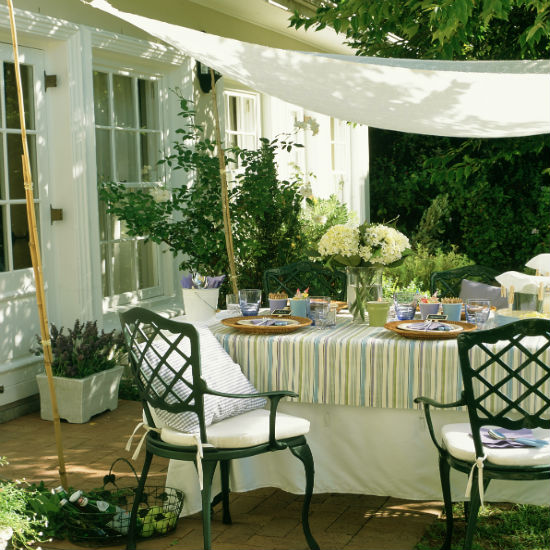 Protect Your Outdoors: Patio and Garden
Savor the outdoors this summer by starting right in your own backyard! In doing so, make sure that your patio and/or garden are in good condition. If you keep pots and planters in the patio, elevate them on plant stands. Putting plant containers directly on the floor can stain it over time. Protect your garden with bird cloth (made of fine plastic mesh) to cover flower beds or garden plants from nibbling deer and pecking birds.
Now you're ready to enjoy summer time to the fullest! Bring out that hammock, swing on a tree-swing, host barbecue or pool parties, or go ahead and book your grand summer trip!
All set to check off your July checklist?
About the author
The Blake Team is a full-service Real Estate team based in Aurora, Colorado specializing in working with Buyers & Sellers, foreclosures/HUD, short sales, and luxury properties. A team with years of experience and an impressive success rate that made it the No.18 real estate brokerage in the nation, as well as the No.1 Keller Williams agent in Colorado led by CEO & Founder Lisa Blake. The Blake Team is your No. 1 choice for getting your dream home!