House for Sale this Holiday Season? How to Sell Effectively and In Style
Selling during the holidays? It may seem a bit daunting given the hustle and bustle of this time of the year, but it can be done. In fact, selling your home during Santa's time could actually be fun!
The Bright Side
Selling during the holidays could mean your home is ready for showing! It looks wonderfully inviting and winter-snuggling kind of warm like something that you would be invited to do in a fireplace-lit living room with a snuggly blanket and a cup of hot chocolate. With all those pretty Christmas decorations and lively colors, this is the best time as any to welcome potential home buyers to take a look at your home.
To uplift your selling spirit some more, think about reduced competition. Many home sellers wait it out until after the holidays to put their homes on the market. So with you in the minority of actually going out there and listing your home, you attract more of those looking for a new home.
Here are a few tips to help you attract buyers and close quickly while still keeping up with the holiday traditions and your sanity intact!
Here's to marketing your home to potential buyers…
1. Decorate wisely. Follow the Less is More rule
Selling a home means going back to the bare essentials to make it easier for potential buyers to envision themselves living in the house and bringing their own interior design ideas. At holiday time, you can throw this conventional idea out the window. It's all about making your home attractive and inviting to prospective buyers…BUT, without going overboard with your holiday enthusiasm.
As much as making it festive as your goal to create a happy home atmosphere, which by the way will totally rock with homebuyers, it's also about keeping things neutral and tasteful. Decorate on a seasonal theme and not just holiday-specific. For instance, incorporate Christmas with winter. Think snow and pine boughs not just all Santa and wreaths.
Dazzle your buyers, not shock them. Impress them with your home's design and not distract them with your decors.
2. Decorate to accentuate your home's best feature
Decorating strategically is the key. Does your home have a grand staircase? String garlands up the railing to further draw the eyes into this feature. Do you have a beautiful archway? Go ahead, hang a shiny ornament. Does your home feature an elegant fireplace? Place an equally classy decoration on top like a vase of flowers or candelabra. No need to go all out with Christmas stockings and balls. Remember decorating on a seasonal theme instead of holiday specific? You can start in this section of your home.
There are many ways to be creative. Just keep in mind that just like dressing up for a big event, it's not about dressing to the nines to look fabulous. It's about emphasizing your best features – feeling good will make you look good. And this goes the same with your sweet home. Make the ambiance good so it will also look amazing and you can do this by highlighting things that deserve attention.
3. Create a home that impresses warmth and contentment
Make sure the rooms are well-lit and the fireplace going for that added coziness factor. Use accents like throw pillows, area rug, comfy duvet and quilts to make your home more inviting.
Treat all your buyer's senses. Play soft music in the background, put out some delicious-smelling treats, light wintery scented candles. Remind your buyer of the idea of the comfort a home brings; that home is family and security. The longer they stay, the more they will see themselves living in your home.
Don't be surprised when an offer comes too soon!
4. Think about the Christmas Tree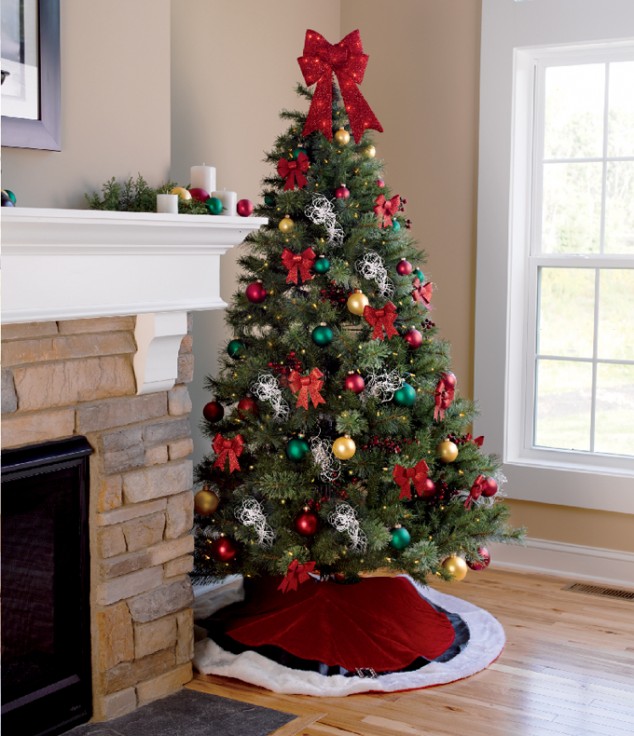 It would be a good idea to do away with the Christmas tree for now.
Surprised? Well, what better way to decorate this season than with a Tannenbaum, right? And in homes where Christmas season is uphold, the tree is afforded a place of honor. However, you are selling and in selling a home, space is as valuable as gold. Space sells and what your tree takes up could help add to the selling factor.
Don't worry, though! If having a Christmas tree is that important to your family, improvise a bit. Place it in a "safer" zone where it doesn't eat up space or choose a tree carefully ensuring that you get one that has the right proportions rather than engulfing the room.
5. Know your buyer's market
People who are shopping for a home during the holidays are very motivated to buy. Some need to close before the year ends for tax reasons; some are looking for a good deal. There are buyers who are forced to move as soon as possible regardless if it's the busiest time of the year or that the weather could be harsh. Others are eager to find a home now so they can move in January to start the year right or simply to start a new job.
With this said, knowing your market will help you sell your home fast. Your real estate agent can help you target the right kind of buyers.
The Blake Team is known for their expertise in selling homes within the Greater Denver/Aurora Area. The team provides a FREE  HOME VALUATION with absolutely no obligation. See how much you can possibly list your home in the market.
About the author
The Blake Team is a full-service Real Estate team based in Aurora, Colorado specializing in working with Buyers & Sellers, foreclosures/HUD, short sales, and luxury properties. A team with years of experience and an impressive success rate that made it the No.18 real estate brokerage in the nation, as well as the No.1 Keller Williams agent in Colorado led by CEO & Founder Lisa Blake. The Blake Team is your No. 1 choice for getting your dream home!